Bathrooms
There are many people who decide to give a new air to the bathroom, from Ferba we give you a few ideas so that you can carry out.
We must bear in mind that the kitchen needs constant cleaning, and the floors suffer a lot over time. For this reason, we will be very careful when choosing materials.
Ideas so you can carry it out.
Parquet PVC
For the floor, what we can do if you have a ceramic that has time, is worn and does not finish looking good would be to put a PVC or LVT floor. We would install this above the bathroom, easy to place.
This material is 100% waterproof and has no maintenance problems.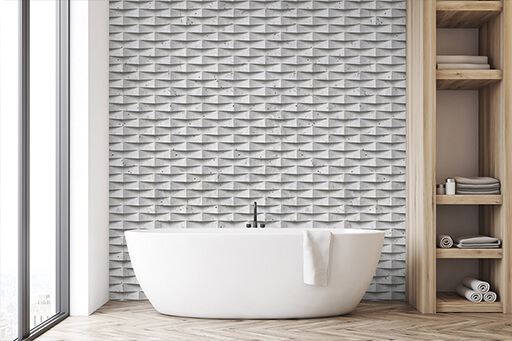 PVC coatings
Once we have the floor, it is necessary to see the coating, where the lime has been integrated into the joints and the ceramic. Over the years it no longer looks like it was the day it was purchased.
One of the easy options we have is to put a PVC coating.
We have several options, one of these is GROSFILLEX, which has coatings that, once placed, are splendid. With plates of 0.375 x 2.60 in length or 1.20 x 0.375, which are the most used. Installation is very simple, you just have to glue it to the wall and then place the toilets.
Special paint
Com podeu veure hi ha molts dissenys que segur que donaran al bany un altre aire.
Si encara voleu una formula més senzilla teniu disponible la pintura especial que va directament sobre la rajola. Amb una prèvia neteja i amb un pintat directe, la vostra rajola lluirà fantàstica
Però una vegada ja tenim el terra nou i les parets pintades o revestides, el que falta es pintar els sanitaris amb una pintura especial de 2 components. Es una pintura que necessita de una preparació del sanitari un polit i una neteja a fons.
Així que si voleu tenir el bany nou amb un mínim esforç i econòmic passeu per Ferba a informar-vos, us ajudem! Fes clic aquí i un assistent t'ajudarà a fer la teva selecció
As you can see there are many designs that are sure to give the bathroom another air.
If you are still looking for a simpler formula, you have available the special paint that goes directly on the tile. With a previous cleaning and with a direct painting, your tile will look fantastic.
But once we have the new floor and the painted or covered walls, what is necessary is to paint the toilets with a special 2-component paint. It is a paint that needs a polished toilet preparation and a thorough cleaning.
So, if you want to have the bathroom like new with a minimum effort and economical, stop by Ferba to find out, we will help you! Click here and an assistant will help you make your selection.